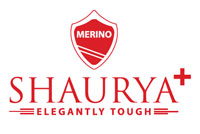 Shaurya – Merino's Internal Wall Cladding Solution is a High Pressure Compact Laminate based wall protection system with a first-of-its-kind technology in India. As the name suggests, this product is primarily used for internal application i.e. protecting the internal walls of a building from various kinds of damage, along with enhancing the aesthetics of the interior.
Extensive colours & customisable designs
Advantages
Why Shaurya IWC?
The primary purpose of Shaurya is to provide protection to the internal wall from di­fferent damages viz. water, scratch, graffiti, soiling, impact, colour fading and minor burn marks. Apart from the damage protection, purpose, there are other reasons for installing Shaurya.
To improve aesthetics of wall
To cover cabling arrangements
To develop anti-bacterial surface for medical applications
To match the wall with overall furniture design
To provide scope for future changes in the wall as Shaurya is very easy to uninstall