High Pressure Laminate (HPL) Compact is a versatile and sturdy laminate board which serves as a base product for a variety of MERINO furniture solutions like Restrooms, Lockers, Urinal Modesty Panels (UMPs), Internal & External Wall Cladding etc. Compact Laminate is available in 5 thickness options i.e. 3mm, 6mm, 9mm, 12mm & 18mm. Restrooms are made usually made from 12mm and 18mm compact panels where as 6mm & 9mm panels are used in for Wall Claddings.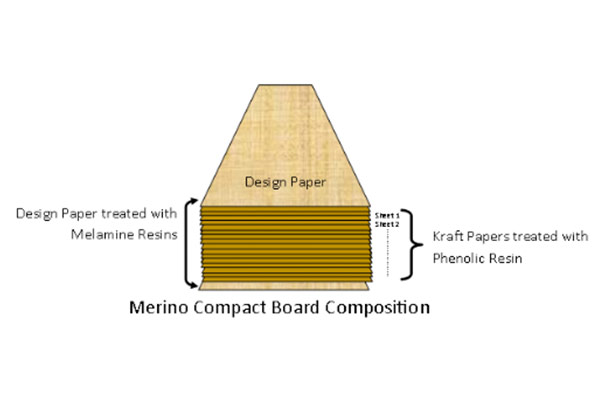 The core of Merino Compact Board consists of several layers of cellulose fibrous material viz. Kraft paper impregnated with thermosetting phenolic resins. The surface on both sides is formed with decorative paper impregnated with melamine resins. The entire bunch of paper, upon proper stacking, is treated at high temperature and pressure for a definite time duration to form the final compact laminate.
Merino Compact is a solid grade, load bearing laminate. It has inner core of celluloid fibers impregnated with thermosetting resins which are resistant to atmospheric and chemical agents. It provides superior mechanical properties to impact resistance. It can be applied on both horizontal and vertical surfaces. Merino Compact Laminates are manufactured in various thicknesses, adequate to eliminate the use of a substrate, and are useful where flat and free standing panels are required for decorative purposes.